Tarzan Games Online

Most of our images of Tarzan are inspired by the Disney and other movie series, however he first appeared in 1914 in the novel 'Tarzan of the Apes' which followed the story of John Clayton whose parents died shortly after being marooned in Africa; his mother of natural causes but his father at the hands of the ape leader Kerchak who went on to raise the infant child. Living in the wild, and adopting the ape name Tarzan, the boy developed sporting skills and abilities far in excess of humans raised in towns and cities and could also communicate with many of the jungle animals with whom he co-habited. Tarzan has featured in some twenty-two novels by his original author Edgar Rice Burroughs as well as books by other novelists together with films, TV series and comic strips, and, of course, in games as well. In fact here we present what we believe are the best Tarzan games online whether you want to enjoy Tarzan adventures in the jungle or play a range of Tarzan game and puzzles we have something for you.
---
---
Tarzan Games Online: Jungle of Doom



Jungle of Doom is one of our favourite jungle games as the graphics are super cool and there's lots of action sequences. Tarzan is lost in the jungle and needs to escape by swinging from vine to vine, survive a crocodile infested swamp and avoid falling rocks amongst many other obstacles.
---
Tarzan Games Online: Jungle Jump



Guide Tarzan through the jungle to collect diamonds to give to Jane on their first anniversary while avoiding various dangers on the journey such as alligators, panthers and man-eating plants and help Tarzan swing across dangerous water rapids.
---
Tarzan Games Online: Tarzan Swing



This Tarzan Swing game from Walt Disney features a rather young looking Tarzan who needs to be able to swing through the African jungle on vines in order to collect bananas to eat.
---
---
Tarzan Games Online: Tarzan Escape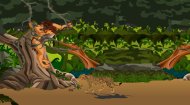 Here our hero Tarzan has got himself in a bit of a mess, being strung up by vines in a tree whilst a cheetah prowls menacingly below and you need to find objects on the screen to help Tarzan make his escape.
---
Tarzan Games Online: Coconut Run



In this Tarzan strategy game, Coconut Run, work out how to get the ape to throw the coconut strategically for Tarzan to collect the jungle fruit.
---
Tarzan Games Online: Tarzan Memory



In this online Tarzan memory game match up the pictures of Tazan and his friends against the clock. A fresh set of cards every time!
---
---
Tarzan Games Online: Hidden Objects



Find hidden objects around Tarzan against the clock over a number of levels in our Tarzan Hidden Objects game. Quite tricky this one unless you have a sharp eye!
---
Tarzan Games Online: Hidden Numbers



In this Tarzan numbers game you need to use your observation skills to find all the numbers listed hidden in the picture of Tarzan. For every number you find you score points, but you lose points if you click unnecessarily.
---
Tarzan Games Online: Sort My Tiles



This Tarzan tiles game will appeal to those who like playing Sort My Tiles games. Simply click on the red button to release one of the tiles then move it into position on the picture of Tarzan and Jane swinging through the jungle in the correct place on the grid.
---
---
Tarzan Games Online: Colouring Book



This one is slightly different from our Tarzan games collection, as it's not really a game, more a colouring book for young fans of Tarzan. Choose from between six pictures of Tarzan and his animal friends, then start colouring in the pictures.
---
---